Welcome
Thanks for visiting our site!
We create custom printed, custom cut, paper boxes, cards and packaging for your event or promotion- the most unique promotional products ...ever.
We offer a full line of creative favor solutions for any type of event. Please give us a call so we can discuss your needs and share our creativity with you!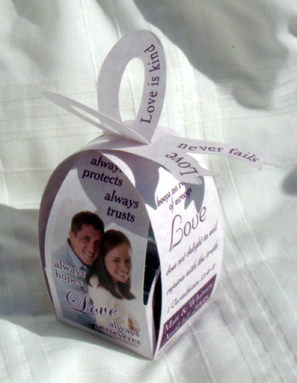 Our exclusive product, Lollipop Toppers™, are swell paper boxes that fit over lollipops. The boxes can be printed with any type of promotional, marketing or inspirational information. They fit over standard lollipops, but that's just the start of the fun as you can fill them with candy, paperclips, your small product - anything that will add value to your promotion. We've engineered multiple box designs that offer additional opportunities for creative presentation of information. Whether you are commemorating your special day and just saying "Thank You!" or promoting your special service and saying "Try Us!", Print-N-Cut Promotions would love to be your creative partner.

About
The Lollipop Topper™ Story

Once upon a time, there was a swell fellow named Amos. Amos was blessed by his Creator with mild artistic ability and an enormous amount of creativity. In 1987 Amos (who has no relation to Famous Amos other than a similar name and the love of a good cookie) decided he should like to develop a product related to cookies. He created CookieCrumbs. CookieCrumbs were nothing more than one dozen bite-sized cookies packaged in clever printed paper boxes. Amos gave away more cookies than he sold in those days but he was always striving to make his product better, especially the packaging. He developed several unique box shapes including a Christmas tree, an Easter basket and a cornucopia. His boxes were offset printed with unique designs on standard 8-1/2 x 11 cardstock and then cut and assembled by hand (many hours spent with scissors and a hot-melt glue gun).

In the late '90's, Amos discovered hand-operated die cutting technology and everything changed. In 1997 A Very Swell Idea, Inc. was started as a design consulting firm that developed products for others. At AVSI, Amos began replacing all of his box designs with a new technique he devised called the PrintMatch™ System and continued the development of this PrintMatch™ technology as one of his side projects. With his custom-designed PrintMatch™ Cutters and a standard die cutting machine, Amos was able to make his paper boxes in a fraction of the time using the computer to design and print the graphics and the PrintMatch™ System to perfectly cut and score his boxes (no more scissors = excellent quality control).

In Jan '04, Amos was walking the floor of a trade show with a customer discussing all of the free items given away at the show to promote company products (Amos and the customer had a quiet contest to see who could collect the best chochka at the show). It was then, during an inspired A-HA moment, that the idea of placing a paper box over a lollipop was conceived by Amos and Lollipop Toppers™ were born. The primary function of a LT (as it was called for short) was to serve as an information exchange tool. The boxes could be printed on standard office equipment with any type of promotional, marketing or inspirational information (they look so cool, people want to know what they are and have to have one). The lollipop or other items inside provided additional incentive for the exchange of information (i.e. "I will gladly take and read your advertising material in exchange for a free sucker."). Their simple glue-less design made them easy to assemble and cost efficient for both promotional and commemorative use.

So that's where this wacky product line came from. God has blessed us with an abundance of creativity and we hope to share that with you with our Lollipop Toppers™.

To learn more you might visit www.averyswellidea.com or www.seeds4christ.com or for even more fun, you might enjoy (or hate) www.BoogerBall.com.